Free Asset Protection Book
Here is a free Asset Protection Book…with our compliments. (A $29.95 value, free.) In addition, we have attorneys on staff who can help you with your asset protection needs if you need further assistance.
★ ★ ★ ★ ★ "5 Stars. The best book I have ever read on asset protection from lawsuits."
-Bill Rogers, business owner
Insider's Guide to Asset Protection
Insider's Guide to Asset Protection uncovers little-known secrets on how to protect your and your family's economic resources from any financial attack. Get started today! You will learn how to:
Ward off many lawsuits before they start.
Protect your inheritance and your estate from the ravages of probate and estate taxes.
Guard yourself from potential liabilities of your business.
Protect yourself from lawsuits incurred by those with whom you do business.
Prepare now so you can keep what you have even if you do lose a lawsuit or have creditors or the IRS pursuing you.
Keep your assets even if you file bankruptcy.
Use an asset protection trust for a lifetime of wealth protection.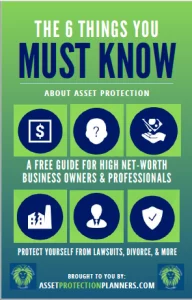 Click here to download your free copy of
The 6 Things You Must Know About Asset Protection
The 6 Things You Must Know About Asset Protection
A free guide for high net-worth business owners and professionals.
Brought to you by our family of company and trust formation brands: 
Please click on the logos below to see how we might help you. 







(Offshore Company UK)
About the Authors and Contributors
Companies Incorporated, 1-800-COMPANY, Asset Protection Planners, Offshore Company, OffshoreCorporation.com, and OffshoreCompany.co.uk are particularly well renowned as America's leading brands for asset protection and estate planning.
Moreover, the above family of brands are part of an international firm specializing in asset protection and estate planning for individuals and companies. Therefore, the firm establishes legal entities used to protect assets from lawsuits, creditors, income taxes, estate taxes, and probate. We have asset protection attorneys on staff.
Likewise, the organization and its professional consultants are well known in the industry. Thus, due to their work and innovative asset protection strategies, the management team is in constant demand. As a result, its personnel regularly speak to audiences around the nation in their mission to help others to protect their financial resources.
Please click above to receive your free asset protection book.